Fashion Through The Ages - 1940s
In the 1940s, World War II defined those emotions and set the ground rules. The general wartime scene was one of drabness and uniformity, continuing well after the war finished in 1945. There was an austere atmosphere and people were encouraged to 'make do and mend.' Designers were limited by the American War Production Board in the amount of fabric and labour that could be devoted to their garments thus were forced to keep embellishments to a minimum.
Teenagers became a recognized force in the forties. With the men off to war, teenagers - boys and girls - found employment readily available, and so had money to spend.
Seventeen
magazine was established in 1944. Advertisement began to be aimed at teens. With fathers away and mothers at work, another new phenomenon arose - the juvenile delinquent.
The 40s were also about Swing as Jitterbug was introduced. The soldiers took the dance overseas and introduced it to local girls, barmaids and even each other. Big Band music was very popular.
Another invention of the 40s was the Slinky, pictured below.
Fashion Pointers
-With the men away, women had to search for work leading to the practical suits in the 40s.
-Skirts were short and straight topped by short jackets of twenty-five inches or less in length.
-Cardigans matched skirts
-Sheath evening dresses
-Shoulder Pads
-Women raided the men's closets
-The concept of separates and co-ordinating components was introduced in order to create the illusion of more outfits than one actually had
-Gored, gathered and A-line skirts were topped with soft, feminine blouses.
-Blouses donned bows at the center-front neckline and might sport full or puffy sleeves.
-Collars were cut generously full, in peter pan and traditional pointed shirt-collar designs.
-Lace accentuated blouses around the neckline
- Colours include patriotic reds and blues
- Prints like pin stripes, polka dots and gingham were popular
-Leather was restricted for military use so alternatives were used for shoe designs
-U.S. rationing rules limited the height of shoe heels to one inch and allowed for only six color choices
-Cork or wood-soled "Wedgies" were a staple
-Reptile skins and mesh shoes
-People painted legs with back seams and tan using makeup to created the illusion of stockings, which were also unavailable
-All manner of hats were popular
-Knitting was popular, giving rise to knitted hats and socks
-Hair had glamorous styles with curls (below)
Ads from the 40s:
Teenage influence in Miss America; Utility clothing
An array of hats (with floral pieces) ; Prints from the 40s
To save money, people made bras from tablecloths (top) and suits from men's clothes (bottom)
Fashion Icons of the 1940s
Hollywood was, like in the 20s and 30s and even today, about glitz and glamour.
Icons pictured from left:
-Lauren Bacall
-Katherine Hepburn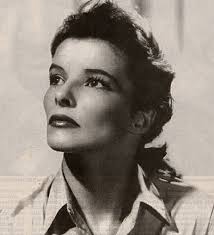 1940s revival by Hollywood celebrities
While people at home were reusing and recycling, Hollywood was all about glamour. That look was revived at this year's oscars where several celebs adorned strapless couture gowns, channeling that old glamourous Hollywood vibe.
And by Hollywood itself:


The movie Pearl Habour was set during WW2 (1940s). It didn't quite capture the recycling of clothes and the utility wear since most of the female characters were nurses. The above pictures do capture the prints and silhouettes of the pre-war period though.
The Aviator really spanned across the late 1920s to the early 1940s. It showed the glamourous side of Hollywood during the era through its classic lines and opulent gowns.

Shop the 1940s



Moschino's Spring 2005 collection showcased gorgeous forties prints and details like puffy sleeves and sheath dresses.



Donna Karan Lace Utility Jacket does a modern sexy take on the forties utility suit.
Sheath dresses were also popular in the 40s. Have them printed in 40s polka dots or mod colours.


Real Clothes, Salon Z Pretty Woman Dress



Misses Dramatic Stretch Sheath Dress