Fashion Through The Ages - 1950s
Optimism abounded during the post-war years of the 1950s. The focus was on the baby-booming family and being a good housewife which was the ultimate measure of success.
The United States had emerged victorious from another bitter war. Television was now in many households, and the TV culture of I Love Lucy and The Honeymooners reflected ideals of the time. Stars such as Marilyn Monroe, Brigitte Bardot, and Elvis Presley introduced a smoldering sex appeal into an age of conservatism.
Consumerism became a popular pastime in the 1950s, as the post-war boom provided a sense of economic optimism. New gadgets and gizmos proclaimed the future was here and liberated women from many onerous household tasks. Homemaking, it seemed, was not so bad when you had electric stoves, vacuum cleaners, refrigerators, and the like. Women could now concentrate on making a comfortable home for their families, and still have time to have a life outside of the kitchen.
Christian Dior's New Look
The "New Look" was born in 1947, created by Christian Dior. It was a backlash from WWII's stringency, and was typically defined by the generousy use of luxurious fabrics, a wasp-waisted silhouette with widely flared skirts. Not content with enhancing the proportions of the body, however, Dior effectively set out to remould and idealise them. Waists were boned in, breasts uplifted and pushed out.
Suits
In contrast to the full skirt New Look, Chanel who had reopened her fashion house in 1954 began to produce boxy classic Chanel suit jackets and slim skirts in braid trimmed nubbly highly textured tweeds. Fabrics were sometimes designed by the textile artist Bernat Klein. The silhouette was straight down and veered away from a nipped in waist. The beautifully made suits were lined with lovely silk fabrics and weighted along the facing join and inside lining with gilt Chanel chains.
The look was easy to copy and very wearable. Major chain stores sold suits based on the design. Accessorized with strings of pearls the style has frequently been revived over the seasons and collarless coats and jackets are now called Chanel line.
Teenage Rebellion
Teenagers were basically the focal point of this era. Films such as 'Rebel without a Cause' and the rise of Rock and Roll were influential in how teenagers dressed. Leather, Levi's, and Converse sneakers helped create the look.
Girls would wear their boyfriends letterman jackets and sweaters, to show everyone they were dating a jock. Teenage culture gave birth to slang like 'cool' and 'ville'.
The
Beatnik culture
, inspired by authors such as Jack Kerouac, was also in vogue. As the trend for a beatnik look developed, oversized chunky long sweaters with huge cowl collars were worn over slim fitting pencil skirts or slacks with stirrups. The girls usually had a French pleat hairstyle or showed the start of a beehive. Wearing all black was a favourite choice for beatniks.
A perfect example of Teenage Rebellion would be the film Grease:
It reflected the music, the attitudes, the fashion and the dating woes of teenagers at that time.
Skirts
A poodle skirt is a wide swing skirt with a poodle appliqued or transferred onto the fabric. Poodles were not the only items used to adorn these skirts, they are just the best remembered.
Another popular skirt was the circle skirt,which were cinched in the waist, with pleats and A-line flaring.
Shoes
Charles Jourdan introduced a new kind of shoe style, the stiletto heel, in 1951. As time went on the goal was for the slimmest possible heel, eliminating earlier "chunky" styles. The pump was the basic shoe, but its toes might be cut, the vamps curved or cut in enticing 'V's, or the heels molded into a variety of shapes. Every color of the rainbow was used; shoes were intended to match an outfit perfectly.
A sketch by Andy Warhol circa 1955:
A popular men's shoe were pointed toe shoes called winkle pickers, shown below.
Saddle shoes, penny loafers, and coloured sneakers were popular with teenaged bobby-soxers (a term intially used to call fans of Frank Sinatra, who were mostly teens). Sandals, ballet slippers, and other casual footwear became increasingly fashionable, as pool parties and other casual outdoor activities became popular.
Saddle Shoes, Penny Loafers, Coloured Sneakers
Hairstyles
-Poodle hair style
-French pleat
-Ponytail (seen on Grease)
- Ducktail(below, also seen on Grease)
Fashion Icons in the 1950s
-Audrey Hepburn
-Marilyn Monroe
-Elizabeth Taylor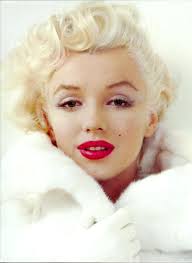 Hollywood Revival of the 50s
The movie Pleasantville, unlike Grease, was more about adults and sense and sensibilty. Clothes were decent and almost matronly.
Hollywood Celebrity Fashion 50s Revival
These flared cocktail gowns worn by Renee and Eva look quite similar to Dior's New Look.
Shop the 1950s
Collete Dinnigan's Fall Runway collection had the feel of the 50s.
Romantic lace georgette pieces.
Tweed petticoats with peter pan collars.
Try Laundry by Shelli Segal for their teal peasant dresses and nipped waist silhouettes.
Or opt for vintage floral prints:
Trina Turk Confetti Dress, Tracy & Michael Floral-Print Dress