Fashion Through The Ages - 1970s
The 1970s were literally the "anything goes" decade. For some, the uglier and clunkier the fashion, the better. For others, soft and feminine was the answer. No matter what you "dug" though, making a fashion statement reached its apex in the 1970s.
The 1970s were an intensely tumultuous time, with various cultures and subcultures coming out into the open at once. Cynicism abounded as militant feminism, Civil Rights, the Watergate scandal, and the Vietnam War brought gritty reality to the forefront. These influences gave designers new ammunition, and the public was eager for the latest fashion wave.
Platform Shoes
By the mid seventies the most ordinary people were wearing two inch deep platforms without a second thought. But accidents did happen and many a woman and man twisted on a pair of platform shoes. At about the same time clogs became popular as they followed the trend for chunkiness of sole.
Pop art emulated the platform shoe, and by 1971, it was considered the most exciting year in shoe design, not only for the population but for Pop artists. The colors and designs were raved as "psychedelic," for their swirls and colors
Disco Fashion

The late '70s set off the disco craze, showcased in John Travolta's film Saturday Night Fever. Polyester was THE fabric of the decade. Leisure suits with butterfly collars were all the rage under the mirrored disco lights.
Spandex tops and shiny clinging Lycra stretch disco pants in hot strident shiny colours with stretch sequin bandeau tops were often adaptations of professional modern dance wear that found itself making an impact in discos as disco dancing became serious. Gold lame, leopard skin and stretch halter jumpsuits and white clothes that glowed in Ultra Violet lights capture the era perfectly.
Disco gave way to dress codes and a door screening policy. People had to have tried to look right to gain entry to clubs. Disco wear was never acceptable for day wear, but for night it was the only possible wear to enable the participants to be part of the action, to be part of the atmosphere of strobe lighting, mirror balls and spotlighting of individuals at any time. Satin jackets that reflected the light and a medallion resting on a tanned chest in an open neck shirt with the collar turned up were de rigueur, however awful such fashions might seem now.
Talk about tacky, look at Abba in 1977.
Micro, Mini or Maxi 1970's Skirt Lengths
By 1970 women chose who they wanted to be and if they felt like wearing a short mini skirt one day and a maxi dress, midi skirt or hot pants the next day that's what they did. Ra-ra cheerleader skirts were popular.
For evening women often wore full length maxi dresses or evening trousers or glamorous halter neck catsuits. Some of the dresses oozed Motown glamour, others less so.
A 70s catsuit
Frequently for evening in the early seventies, either straight or flared Empire line dresses with a sequined fabric bodice and exotic sleeves were typical for a dressy occasion. One popular style was the Granny dress with a high neck, sometimes frilled or lace trimmed and a floral print design in a warm brushed fabric.
A vintage 1970 Pucci Dress, 1970s Fred Perlberg Red, White & Blue Long Voile Dress
Caftan or Kaftan
The Hippies of the sixties had brought with them clothes from other ethnic groupings which had often never even been seen before. Nehru jackets and loose flowing robes from hot countries made their way to world cities and permeated down to mainstream fashion, helped of course by designers like Yves St Laurent.
From the mid to late 70s, caftans, kaftans, kimonos, muumuus, djellaba (a Moroccan robe with a pointed hood) or jalabiya (a loose eastern robe) and other styles from every part of the Indian sub continent and Africa were translated into at home style robes and comfort wear. They were worked in every fabric imaginable, but were especially suited as glamour dressing when worked in exotic fabrics and edged in silver or metallic trims
Nehru Jacket from India, Djellaba from Morocco
Muumuus from Hawaii, Jalabiya from the Middle East
Flared Trousers, Bell Bottoms and Trouser Suits
Trousers and trouser suits were serious fashions in the 1970s.They began gently flared and reached wide bell bottom proportions by about 1975. After which they slowly reduced to straight and wide until by the end of the seventies they were finally narrow again. popular fabrics include heavy crepes, wool jersey knits, Courtelle jersey and woven Polyester suiting such as Trevira.
That 70s show features bell bottoms, trousers and jeans
Punk Rock
By the time Punk Rock came on the scene in the late 70s, fashions changed as radically as was possible - While bikers and Hells Angels had dressed in black and shoved metal studs through their clothing for most of the 70s, the new punks sported every colour under the rainbow but preferred to shove the metal studs (and safety pins) through their ears and noses.
Hairstyles of the 70s
-Feathered Hair made popular by Farrah Fawcett (below)
-Long straight hippie hair
-Afros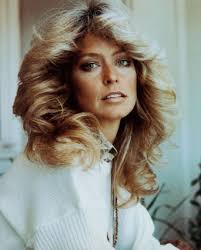 Movies of the 70s
Charlie's Angels
Saturday Night Fever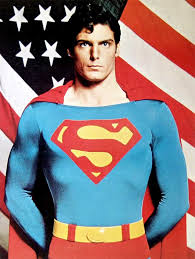 Superman

Hollywood Celebrities do the 70s
Jennifer Aniston in a midnight blue 1970s Halston Couture dress
Not quite a 'signature' 70s look, its very classic. But nevertheless, it was made in the 70s.
Molly Ringwald looks fugly in this 70s granny printed dress.
Shop the 70s
D&G's Fall 2005 collection escaped to seventies kitsch. There was a giant disco ball and T. Rex and Roxy Music blasted the runway. It paid homage to Biba (a fashion designer) circa 1972 and the show had a punk-rock glam theme.
But if the punk-rock thing is too tacky for you, a more appropriate approach would be to search for ethnic, hippie fashion (which is very in vogue now)
Try the Dior Peace and Love line Dior channels bohemian-chic in their supple suede bags and shoes. Totally hippie. Totally 70s.
Peace & Love Suede Saddle Bag
Dior
Peace & Love Suede Zipped Hobo
Dior Peace and Love Suede Pochette
Dior Peace & Love Suede Mule