Fashion Through The Ages - 1980s
Whew, last post for the series.
The 80s was the decade of excess. Everything was bigger, and everyone wanted more more more! Shoulder pads were de riguer for both men and women, the more accessories the better.
The Rubik's cube, Cabbage Patch Kids, "Baby on Board" signs, and Trivial Pursuit fads capture the interest of the American public.
MTV was born and it inspired many a teenager in their sartorical decisions.
New Romantics
New romanticism emerged in the UK music scene in the early 80s as a direct backlash against the aus­terity of the punk movement. At various times it became a catch-all term for quite disparate bands working within the pop world, and consequently works better as a description of a specific time rather than sound or style. Where punk railed against life on England's council estates, the new romantics celebrated glamour; ostentatious clothes and hedonism.
Adapted factual or fictional themes and Hollywood glamour were chosen by the New Romantics to make a personal look. The flamboyant, colourful dramatic look used frills and luscious fabrics associated with historical periods. In contrast to punks the wearers made an effort to look flamboyant in an attractive, luxuriant, beautiful, narcissistic way.
David Bowie was an obvious influence, and his 1980 single "Fashion" could be considered an anthem for the New Romantics.
The early designers of the romantic look were Vivienne Westwood, Colin Swift, Stevie Stewart and David Holah. Westwood began her romantic ideas with adaptations of dandified Regency designs which later she developed into a Pirate look. She designed especially for Adam and The Ants.
The Swashbuckling Pirate Look
Typical romantic glamour had the swashbuckling style of pirates and buccaneers. Full sleeved frilled pirate shirts were made from luxury fabrics. Theatrical brocade or hussar style jackets of velvet or silk complete with braiding were copied and appeared on many jackets. The New Romantic look was intended to be individual, unlike punk which tended to have uniformity. New Romantics longed for the fantasy of the 1930s and 50s glamour of Hollywood.
McLaren and Westwood's Pirate clothes (above) explored historical cut and evoked the golden age of piracy, an age of highwaymen, dandies and buccaneers. As in Punk, the garments were unisex. The collection immediately entered the mainstream and McLaren and Westwood gained a new reputation, as serious and marketable designers
.
Neon
Socks, Shirts, Hair accessories, bracelets, shoe laces, store signs etc. In contrast to the conservative business climate, the voice of color became louder in casual wear. There were no shy colors, be they primary or fluorescent. New Wave bands such as Culture Club featuring Boy George and mega stars such as Madonna and Michael Jackson encouraged in-your-face fashion.
Boy George
Jelly Shoes
If you were a little girl that grew up in the 80's, then chances are you owned a pair of jelly shoes. These were flexible bright colored jelly shoes that you could wear without socks. A very popular fad during this decade.
Women began demanding an alternative to high heels. The image of a power-suited woman in athletic shoes rushing off to work is quintessential 80s. Quotes such as "It's harder to climb the ladder of success in high heels" were taken seriously. Some women began dressing in mannish simplicity while attempting to shatter the glass ceiling. Flats and low-heeled shoes in muted colors and classic styles were popular.
1980s Charles Jourdan Black Peau d'Soie Pump
Moccasins, espadrilles, and other sorts of native shoes were reinvented using these new color palettes. With the rise of Nike, Converse, Vans and Adidas, sneakers became more popular.
The Converse Chuck Taylor was popular in the 80s
Lace fingerless gloves
ala Madonna who was THE fashion icon, THE material girl of the 80s.
Madonna

Tights and Pantyhose
By the 1980s, patterned tights returned, but now they were spotted or delicately textured lace, striped or enhanced with embellishment such as a flock flower, embroidery or diamante at the ankle. In the mid to late 80s, coloured tights sheer, opaque or solid that toned and matched coordinated shoes could be seen everywhere. Vaguely Black sheer tights were worn with power suits through the eighties.
Neon tights
Hair
Hair styles of the 80s are the most diverse and humorous characteristics of this decade. In the early 80s, the New Romantic fashions kicked off the decade with great hair experimentation. For a while there seemed to be a competition to see who could build the tallest hair, have the strangest angles, or see much plastic, metal and mousse you could fit into your hair and still keep your head upright.
-Big Hair with lots of hairspray
-Hair from music bands like Bananarama, Bon Jovi, Cinderella, Def Leppard and Poison truly epitomized the 'bigger is better' adage.
-Asymmetrical haircuts
-Bleached short hair
-Bangs
-Mullet
-Hair that was styled in all kinds of incredulous ways (see Flock of Seagulls)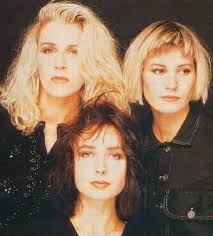 Bananarama and Flock of Seagull's hair
Acid washed jeans
While blue was the most popular color of acid wash, in the late 80s denim manufacturers also experimented with red styles and black (black and gold acid wash was truly jaw dropping.
Acid-washed jeans
Leg warmers
Leg warmers started with dancers but by around 1982 they began to make an appearance in wider society thanks to the movie Flashdance. They were speckled, fluoro and some were worn so low that they would have been better known as ankle warmers.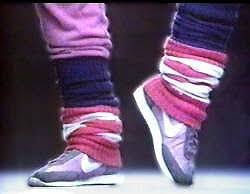 Preppy Look
Reagan's election in 1980 ushered in a new age of American conservatism, and the "Preppy" collegiate look popular with high school and college students fitted right in with it.
Sales of Brooks Brothers, LL Bean and Ralph Lauren's Polo clothes were up, thanks partially to the publication of Lisa Birnbach's The Preppy Handbook. Though the book was intended as satire, it was taken at face value by most of its teenaged readers, who regarded it as a fashion bible
Power Dressing
The 80s were also about power dressing. Corporate business suit dressing was conservative, though the bright colours of the 80s was prevalent. There were sleeves on dresses and the cuts were tailored, not revealing or figure-hugging.
1980s Valentino Red Wool Dress , 1980s Carolina Herrera Pink Linen Dress
Evening Wear
Even evening wear was not spared from the bright colours of the 80s. More bold than power suits, evening gowns had colourful glitter and appliques.
Evening dress by Oscar de la Renta, United States of America, circa 1982, Denim suit by Patrick Kelly, France, circa 1980-1989.
Movies from the 80s
-Flashdance
-Fame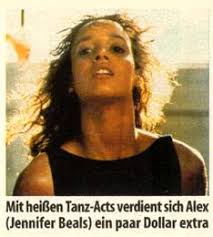 Buy the 80s
80s are too recent to be vintage, so I would say, don't buy the 80s, unless its a classic gown.
But for the daring, try Jelly Shoes.
Kate Spade jelly sandal with big bow
Salvatore Ferragamo Jelly Thong with Charms
Dior Glossy Clog